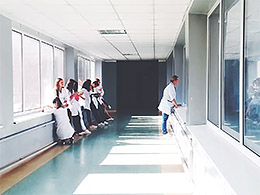 Starts from: April 28, 2023
Course Feature
Class Description
ACADEMIC TITLES
a/ Bachelor's degree of the first cycle lasting 3 years (6 semesters) – 180 ECTS
Graduated health care manager – 180 ECTS
b/ First cycle studies lasting 4 years (8 semesters) – 240 ECTS
Graduated health care manager – 240 ECTS
c/ Academic master's studies of the second cycle lasting one to two years (2-4 semesters) - 300 ECTS (with defense of the master's thesis)
Master of Healthcare Management and Healthcare Management – ​​300 ECTS
Managers of healthcare institutions for health services with 10 or more employees manage the activities of the institution in providing business services to external users (plan, organize, lead and control), with the supervision of the chief director and executive directors and with consultation with the directors of other organizational units of the company.
These jobs include:
planning, organizing, leading and controlling the provision of services to external users, such as various types of health services, health insurance, analysis work, data processing, market research, accounting, laboratory engineering, facility cleaning, technical testing and analysis, advertising and packaging;
ensuring effective use of material and financial resources and personnel and fulfilling plans;
planning and managing daily operations;
cost control;
establishment and management of operational and administrative affairs;
monitoring the application of regulations on safety at work and similar procedures;
supervising the selection, training and work of staff;
representing the organizational unit within the competence within the company or outside it;
supervision of other associates.
The most general generic competencies at the level of each cycle of education, which must be possessed by every graduated student, regardless of the study program or the institution where he completed his higher education, are defined as:
Dublin descriptors (Dublin descriptors), which represent a set of criteria on the expected achievements and abilities of students to distinguish different cycles of education, which were proposed by the Joint Quality Initiative (JQI), and which are accepted as the basis of the description of each cycle of education on ministerial meeting in Bergen in May 2005.
The general framework for qualifications in European higher education (Framework for Qualifications of the European Higher Education - EQF for HE), which was adopted at the ministerial meeting in Bergen in May 2005.
Summary of general subject-professional - generic competencies (FIRST CYCLE)
Key generic competencies
Students should be able to:
basic knowledge of the profession
basic knowledge of the field of study
ability to choose

Ability to make decisions;
Awareness of the degree of uncertainty and risks involved in making a decision;
Realizing the implications and consequences of the choice;
Ability to argue and defend a decision.

communication skills
ability to work in interdisciplinary teams
ability to analyze

Identification of the work environment in which problem solving takes place;
Defining assumptions and goals for problem solving;
Determining the resources and competencies necessary to solve the problem;

the capacity to apply knowledge in practice - the ability to implement,

Planning and organization for the execution of tasks/tasks;
Appropriate setting of parameters;
Choosing an option and making a decision;
Argumentation and implementation of the decision;
Understanding and Awareness;
Leadership skills;

creativity
ability to manage information
the ability to find and analyze information from different sources
basic computer skills
ability to adapt to new conditions
capacity to make an oral and written presentation in their native language
research skills
capacity to learn
ability to work independently
Key subject-professional competencies
Students should be able to:
To demonstrate knowledge of the basics and history of their major field of study/discipline;
To show (express) acquired basic knowledge in a coherent way;
To include new professional information and interpretations in that context;
To demonstrate an understanding of the overall structure of the field of study and the connection with scientific disciplines;
To demonstrate that they understand and can apply methods of critical analysis and theoretical development in their field of study;
To correctly apply appropriate disciplinary methods and techniques;
To demonstrate an understanding of research methods in the relevant field;
To show that they understand the experimental tests and observations on which scientific theories are based.
These competencies are categorized as instrumental, interpersonal and systemic:
Instrumental competencies include:

Cognitive abilities, understanding and manipulation of ideas and thoughts.
Methodological abilities to communicate with the environment: organizing time and strategies for learning, making decisions or solving problems.
Technological abilities related to the use of technological means, computers and the application of information management skills.
Language skills such as written and oral communication or knowledge of foreign languages.

Interpersonal competences: Individual abilities that include the ability to express one's feelings, social skills such as interpersonal skills, working in teams, or expressing social and ethical commitment. These competencies enable processes of social interaction and cooperation.
System competencies are those skills and abilities that relate to the entire system. They represent a combination of understanding, sensibility and knowledge, with the help of which a person will be able to see the relationship between individual parts and how they make up the whole. These abilities include the ability to plan changes in order to improve existing systems and create new systems. Systemic competences require prior acquisition of instrumental and interpersonal competences
Generic descriptors of first cycle studies according to general educational outcomes adopted at the Bergen Conference (19-20 May 2005):
Qualifications representing the successful completion of the first cycle (180-240 ECTS points) are awarded to students who:
demonstrate knowledge and understanding in the field of study, which builds on their secondary education and is common at first cycle level, supported by appropriate learning resources at higher education level (university textbooks, information and communication technologies), which includes aspects of knowledge of advanced achievements in a given field of study;
can apply detailed knowledge and critical understanding of the principles related to a given field of study/discipline in a way that shows a professional approach to work or profession, and possess competencies that are usually expressed by the ability to form and support opinions and positions with arguments and the ability to solve problems within the given field of study;
have the ability to collect and interpret relevant data (within a given field of study) on the basis of which they make judgments that may also include reflections on relevant social scientific or ethical issues;
they can apply the basic methods of acquiring knowledge and applied research in a given discipline, and are able to decide which approach to use to solve a given problem, and are aware of the extent to which the chosen approach is appropriate for solving such a problem;
can present and convey information, ideas, problems and solutions to an audience that is specialized in a given field of study, but also to an audience that is not specialized, using the appropriate language (and where appropriate, one or more foreign languages) and using communication tools technology;
have built learning skills necessary for further study, with a high degree of autonomy and academic skills and properties necessary for research work, understanding and evaluating new information, concepts and evidence from different sources;
possess the foundation for future self-direction and lifelong learning;
have acquired interpersonal and teamwork skills, suitable for employment and/or further study.
Graduated students of healthcare will mainly be involved in various aspects of management and leadership of organizational units, institutions, bodies and organizations in the field of healthcare, as well as in planning and management of human resources and organizing work processes.
This leads to a focus on the following generic competencies that are necessary in different types of organizations and in different fields so that graduates are prepared for the constant and rapidly changing work environment.
Specific competencies of students in the "Management in Healthcare" program
Managers or healthcare leaders have obligations and responsibilities not only to ensure that their organizations receive the strongest possible medical, operational, logistical and financial support to meet the needs of patients, their families and local communities, but also to ensure that hospitals and other healthcare organisations, in their local communities, they serve as networks for support and safety, providing basic and ongoing care to all categories of the population, especially vulnerable categories, as well as reliable, up-to-date and accessible information about threats to public health and public goods in times of crisis.
These are experienced and expert professionals, who sincerely care about the quality of care that patients receive (because at the origin of their profession they come from the health sector). They are not just orders, but partners with doctors, nurses and other professional staff in the health sector.
Economic issues play an increasing role in the management of healthcare institutions. For this reason, the management of hospitals, pharmaceutical companies or emergency care facilities requires not only qualifications in the field of medical sciences, but also professional knowledge in the field of management. This knowledge is provided by study programs that are designed according to the special requirements of specific areas or roles and positions within the core activity.
Significant changes occurring in the field of healthcare are the result of intensive technological development and the application of advanced technologies in the medical profession, changes in the age structure of the population, changes in the standards of health care and protection services, changes in the approach of individuals to the complex of preserving and improving their own health and quality of life, innovative approaches in financing and paying for care and health care services, and designing dynamic service delivery systems in the field of health care.
Hospitals and clinics are not only medical institutions, but also social and business institutions. Therefore, they must be managed by administrators who are trained to take on the responsibility of management and who understand or who are able to integrate various professional, economic and social factors of the work of health institutions.
The main reasons for establishing a study of this type are:
improvement of health care;
expanded opportunities for academic education of secondary medical school students;
great interest of nurses and technicians in expanding education and opening the possibility of additional education in the context of lifelong learning (lifelong learning);
positive experiences of developed countries;
needs for professional knowledge in the field of management in healthcare;
great need for personnel of the above profiles in developed countries, which opens up the possibility of employment abroad.
By mastering the curriculum, students acquire not only appropriate knowledge related to the theoretical understanding of the subject, but also specific skills, that is, abilities and competencies related to the practical and operational application of that knowledge, and the skills necessary for the acquisition of appropriate professional qualifications of students.
The field of healthcare management offers unique challenges in the profession, but also appropriate rewards, both financial and psychological, respectively. emotional. In this regard, health care managers have the opportunity to significantly contribute to the improvement of health in the local communities where their health care institutions provide services, and thus to improve the quality of life of their fellow citizens.
Within the studies, the foundations for lifelong professional mobility and permanent professional development were created.
Based on educational profile bachelor's degree and health care specialist's degree, in the domain of graduate, specialist and post-graduate studies, the University has created a large number of operational and applied sub-specializations/orientations, which qualify students for professional or expert, administrative, management and consulting jobs in the health sector, namely in public and private health institutions, rehabilitation institutions and spas, sports organizations and institutions, inspection institutions, health funds and local government bodies, respectively. state administration bodies.
Graduated students of healthcare management are employed as professionals in the fields of finance, logistics, marketing, planning and data processing in healthcare.
Graduate students and graduate students-specialists of the study program "Management in Health" are qualified for prestigious professions and jobs: clerks, secretaries, administrators, managers and advisors of public and private health institutions and funds, directors of medical institutions, managers of medical-administrative services and documentation affairs, managers of technical and logistic services and maintenance services, personnel affairs and public relations officers.
DEAN OF THE FACULTY OF HEALTH SCIENCES
(Dean of the Faculty of Health Sciences)

She was born in Banja Luka, where she completed primary and secondary school, as well as the Faculty of Technology of the University of Banja Luka. She received her master's degree in 2008. at the Faculty of Technical Sciences of the University of Novi Sad with an average grade of 10,00, and a doctoral dissertation...