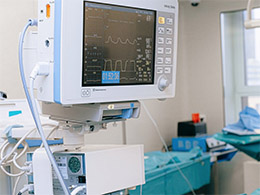 Starts from: October 7, 2021
Course Feature
Class Description
ACADEMIC TITLES
a/ Bachelor's degree of the first cycle lasting 3 years (6 semesters) – 180 ECTS
Graduated medical doctor/nurse - 180 ECTS
b/ First cycle studies lasting 4 years (8 semesters) – 240 ECTS
Graduated medical doctor/nurse - 240 ECTS
c/ Academic master's studies of the second cycle lasting one to two years (2-4 semesters) - 300 ECTS (with defense of the master's thesis)
Master of Health Care – 300 ECTS
Nursing professionals (registered nurses) treat and care for people who need medical care due to age, injury, illness, or other physical and mental disabilities, or because of potential health risks. They are responsible for planning the management of patient care, including the supervision of other health care professionals, working individually or in teams with doctors to practically apply preventive and curative measures.
Tasks include:
planning, providing and evaluating health care for patients based on accepted practices and standards;
coordinating patient care in consultation with other health care workers and associates and members of health care teams;
development and implementation of plans for biological, social and psychological treatment of patients in cooperation with other health workers and associates;
planning and personally providing care, treatment and therapies including medication, and monitoring response to treatment;
cleaning wounds and applying surgical dressings
monitoring pain and discomfort experienced by patients and eliminating pain by including medication (including sedatives) or using other therapies;
promoting health and helping to prevent health impairment by participating in health education programs and other health-promoting activities;
providing answers and information about treatment to patients and their families;
supervising and coordinating the work of other health workers and workers in charge of personal care;
research in the field of medical practice and procedures and their publication through scientific documents and reports;
implementation of education activities in the field of care in clinical and social communities.
The most general generic competencies at the level of each cycle of education, which must be possessed by every graduated student, regardless of the study program or the institution where he completed his higher education, are defined as:
Dublin descriptors (Dublin descriptors), which represent a set of criteria on the expected achievements and abilities of students to distinguish different cycles of education, which were proposed by the Joint Quality Initiative (JQI), and which are accepted as the basis of the description of each cycle of education on ministerial meeting in Bergen in May 2005.
The general framework for qualifications in European higher education (Framework for Qualifications of the European Higher Education - EQF for HE), which was adopted at the ministerial meeting in Bergen in May 2005.
Summary of general subject-professional - generic competencies (FIRST CYCLE)
Key generic competencies
Students should be able to:
basic knowledge of the profession
basic knowledge of the field of study
ability to choose

Ability to make decisions;
Awareness of the degree of uncertainty and risks involved in making a decision;
Realizing the implications and consequences of the choice;
Ability to argue and defend a decision.

communication skills
ability to work in interdisciplinary teams
ability to analyze

Identification of the work environment in which problem solving takes place;
Defining assumptions and goals for problem solving;
Determining the resources and competencies necessary to solve the problem;

the capacity to apply knowledge in practice - the ability to implement,

Planning and organization for the execution of tasks/tasks;
Appropriate setting of parameters;
Choosing an option and making a decision;
Argumentation and implementation of the decision;
Understanding and Awareness;
Leadership skills;

creativity
ability to manage information
the ability to find and analyze information from different sources
basic computer skills
ability to adapt to new conditions
capacity to make an oral and written presentation in their native language
research skills
capacity to learn
ability to work independently
Key subject-professional competencies
Students should be able to:
To demonstrate knowledge of the basics and history of their major field of study/discipline;
To show (express) acquired basic knowledge in a coherent way;
To include new professional information and interpretations in that context;
To demonstrate an understanding of the overall structure of the field of study and the connection with scientific disciplines;
To demonstrate that they understand and can apply methods of critical analysis and theoretical development in their field of study;
To correctly apply appropriate disciplinary methods and techniques;
To demonstrate an understanding of research methods in the relevant field;
To show that they understand the experimental tests and observations on which scientific theories are based.
These competencies are categorized as instrumental, interpersonal and systemic:
Instrumental competencies include:

Cognitive abilities, understanding and manipulation of ideas and thoughts.
Methodological abilities to communicate with the environment: organizing time and strategies for learning, making decisions or solving problems.
Technological abilities related to the use of technological means, computers and the application of information management skills.
Language skills such as written and oral communication or knowledge of foreign languages.

Interpersonal competences: Individual abilities that include the ability to express one's feelings, social skills such as interpersonal skills, working in teams, or expressing social and ethical commitment. These competencies enable processes of social interaction and cooperation.
System competencies are those skills and abilities that relate to the entire system. They represent a combination of understanding, sensibility and knowledge, with the help of which a person will be able to see the relationship between individual parts and how they make up the whole. These abilities include the ability to plan changes in order to improve existing systems and create new systems. Systemic competences require prior acquisition of instrumental and interpersonal competences
Generic descriptors of first cycle studies according to general educational outcomes adopted at the Bergen Conference (19-20 May 2005):
Qualifications representing the successful completion of the first cycle (180-240 ECTS points) are awarded to students who:
demonstrate knowledge and understanding in the field of study, which builds on their secondary education and is common at first cycle level, supported by appropriate learning resources at higher education level (university textbooks, information and communication technologies), which includes aspects of knowledge of advanced achievements in a given field of study;
can apply detailed knowledge and critical understanding of the principles related to a given field of study/discipline in a way that shows a professional approach to work or profession, and possess competencies that are usually expressed by the ability to form and support opinions and positions with arguments and the ability to solve problems within the given field of study;
have the ability to collect and interpret relevant data (within a given field of study) on the basis of which they make judgments that may also include reflections on relevant social scientific or ethical issues;
they can apply the basic methods of acquiring knowledge and applied research in a given discipline, and are able to decide which approach to use to solve a given problem, and are aware of the extent to which the chosen approach is appropriate for solving such a problem;
can present and convey information, ideas, problems and solutions to an audience that is specialized in a given field of study, but also to an audience that is not specialized, using the appropriate language (and where appropriate, one or more foreign languages) and using communication tools technology;
have built learning skills necessary for further study, with a high degree of autonomy and academic skills and properties necessary for research work, understanding and evaluating new information, concepts and evidence from different sources;
possess the foundation for future self-direction and lifelong learning;
have acquired interpersonal and teamwork skills, suitable for employment and/or further study.
Specific descriptors of health care studies in the "Nursing" program
Upon completion of the studies, the graduates will have acquired knowledge and skills for performing nursing practice and will be able to:
to work according to the principles of unique nursing care, respecting the individuality of residents, applying a holistic approach and a partnership relationship;
apply the process of nursing care, ie. perform an assessment of health care needs, set goals and set priorities, plan and implement adequate procedures (implementation), and evaluate and, if necessary, modify the care plan;
maintain nursing documentation and evaluate results;
organize nursing care for different users in different health and social institutions as well as in his family environment and supervise its implementation;
follow the growth and development of a person through all life cycles and undertake activities that contribute to the improvement of growth and development;
to sovereignly master the knowledge and skills that contribute to the improvement of health and undertake activities that serve to maintain good health and protect the individual, family and community from illness;
assess educational needs and apply the principles and techniques of teaching individuals, families and communities;
apply adequate communication with patients, families, team members and others;
take care of maintaining a healthy and safe environment in which the user resides and prevent all risks;
master the knowledge and skills of monitoring the health status of patients and those in danger and intervene in accordance with the authorizations;
participate in the planning and implementation of diagnostic and therapeutic interventions that are prescribed and are carried out under the supervision of a physician;
get involved and work in the health team at all levels of health care, as well as cooperate in a multidisciplinary team;
manage the health care team, organize and manage the nursing service at all levels of health care;
develop professional relationship and responsibility, behave in accordance with legal, moral and ethical norms;
advocate for the improvement of standards of nursing practice;
recognize one's own needs and opportunities for further learning, follow related scientific disciplines and apply knowledge in the profession, follow nursing research and participate in it;
participate in the education of nurses and other health workers, and if necessary, others.
The process of intensive development and application of high technologies in medicine, the hyperproduction of information and the spread of scientific knowledge, the multiplication of specialist knowledge, but also the interdisciplinary character of modern knowledge are reflected in the organization, methodology and didactics of the education of collateral professions in the health field. This is one of the main reasons that programs in the education of these professions are moving towards the requirements of higher and higher education, which is becoming a standard in the educational systems of developed countries.
The main reasons for establishing a study of this type are:
improvement of health care;
expanded opportunities for academic education of secondary medical school students;
great interest of nurses and technicians in expanding education and opening the possibility of additional education in the context of lifelong learning (lifelong learning);
positive experiences of developed countries;
needs in the practice of health care;
the need to introduce the Bologna principles in educational practice in the field of health care (three-year graduate study, one-semester courses, system of transfer and accumulation of credit points, transparency of acquired education and vertical and horizontal transferability, efficiency and pragmatism of studies, etc.);
the need to study the field of health care and related scientific disciplines that provide a holistic approach to the function of health care in an interdisciplinary and multidisciplinary manner;
great need for personnel of the above profiles in developed countries, which opens up the possibility of employment abroad.
In order to achieve these educational goals in the study of the first cycle, students should experience different types of teaching methods such as traditional lectures and exercises, seminars, research seminars, project assignments, pedagogical workshops, problem-oriented workshops, laboratory classes, demonstration classes, clinical practice, student practice and practical work, work-oriented exercises, model making, field work, research work.
The goals of nursing skills can be systematized according to the following principles:
a) A holistic, human-centered approach
Each individual is a unique, whole being. The characteristics and needs of each individual are conditioned by hereditary, constitutional and acquired biological, psychological, social and spiritual factors indivisible from the conditions of the environment in which he lives. Therefore, one of the basic principles in providing nursing care is a holistic approach to the person with full respect.
b) Health and health promotion
Nursing practice is based on the philosophy of preserving and improving health as the greatest human value, according to the modern understanding of the phenomenon of health.
Health is a dynamic phenomenon and each individual constantly strives to achieve the goals of survival, growth, reproduction and knowledge within their living environment. Biological, psychological, sociocultural, economic, ecological and political factors affect the ability of individuals to perform life activities and maintain health. The documents of the World Health Organization and modern definitions of health speak of a new approach to health and health policy through health promotion:Health is created by people in the situations of everyday life, where they study, work, play and love. Health is created by caring for oneself and others, the ability to make decisions and control life's circumstances, and by ensuring life in such a society that will enable all its members to achieve health." (Ottawa, 1986)
"From the point of view of the individual, health is to a significant extent an inherited and upbringing-conditioned process, but also a dynamic, potentially free and creative process, so that it is to a considerable extent a consequence of learning and one's own choice, and therefore tied to responsibility towards oneself and others."
Improving health includes the action of individuals and the entire community on important factors that affect health, such as housing, nutrition, strengthening social support for vulnerable categories of the population, combating addiction, etc. Therefore, the important tasks that should be improved by the health care system are: accessibility of health care, favorable environment, social support, lifestyles that lead to health, individual and community decision-making on health issues based on the availability of relevant information.
c) Nursing practice as a starting point
Nursing practice is aimed at helping people in their daily lives to prevent, alleviate or solve problems related to basic daily health needs (activities), or to deal with them successfully in case of illness. It is help in improving the adaptation of the individual, family and community. Nurses, together with other professionals, help people take responsibility for their health. Health care (nursing care) is achieved through an interpersonal process that includes assessment, planning, implementation and evaluation. Nurses can provide care throughout the life cycle, from conception to death, at any point in the life course from health to illness. Their goal is to enable people to fully use their capabilities and achieve the greatest possible independence.
The goals of nursing care are:
improving health and preventing disease,
restore health (healing, recovery), and help to the sick and
aid in dying and alleviating suffering.
d) Nursing education as the basis of the profession
Nursing education is a continuous process that serves personal and professional development.
High (i more) nursing education is a formally recognized program of study, which forms a broad and solid basis for general nursing practice and for continuing education in special areas of health care. A study program lasting at least three years is considered basic higher education.
Upon completion of their studies, graduates will be prepared for nursing practice with the following practical knowledge and skills:
have adequate knowledge of biological and humanities, knowledge of human growth and development, the concept of health and health promotion, knowledge of the pathophysiology of various health problems, knowledge of the principles of learning and teaching, communication, as well as other relevant knowledge required for nursing practice;
be able to warn about the ethical dimensions of health care in personnel failures, the absence of a care policy, the realization of patient rights, deficiencies in equipment, medicines, etc., which include fair treatment of patients in relation to others;
master the skills of nursing practice such as: application of the nursing care process, successful communication with patients and team members, keeping nursing documentation, ensuring the safety and comfort of patients, applying the principles of teaching and learning, organizing nursing care for different patients, applying the principles of decision-making, critical opinions and problem solving, application of the principle "social justice", participation in the implementation of diagnostic and therapeutic procedures;
overview of the patient's entire situation (family, psychological, spiritual, social) related to patient care.
have adopted professional behavior that is reflected in: adhering to tasks and applying those interventions for which she is authorized, recognizing her own needs to continue learning, the ability to function as a responsible member of the health team, professional behavior in relation to other associates, protecting the interests of her own profession, recognizing and the need for professional association, practicing and improving standards of nursing practice.
DEAN OF THE FACULTY OF HEALTH SCIENCES
(Dean of the Faculty of Health Sciences)

She was born in Banja Luka, where she completed primary and secondary school, as well as the Faculty of Technology of the University of Banja Luka. She received her master's degree in 2008. at the Faculty of Technical Sciences of the University of Novi Sad with an average grade of 10,00, and a doctoral dissertation...