"APEIRON" ORGANIZED PROFESSIONAL TRAINING FOR SAFER TRAFFIC AND WELL TRAINED DRIVERS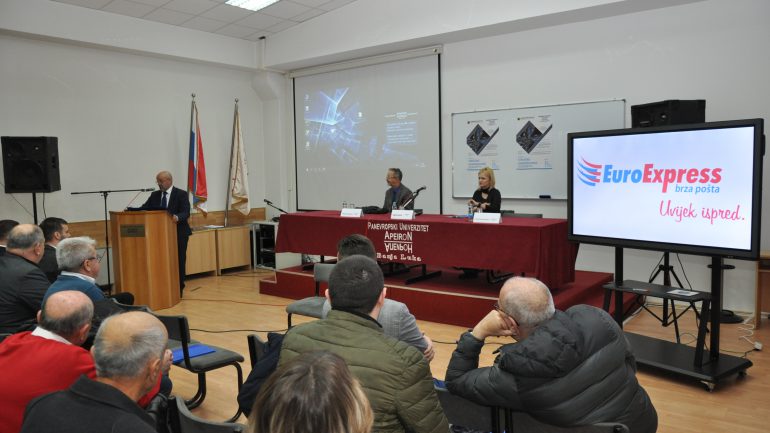 Our sponsors who contribute to safer traffic: Business and technical center Neškovic East Sarajevo, EuroExpress fast mail, Semberija transport, Logistika Grbić, Auto-moto savez RS and XE Express
"APEIRON" ORGANIZED PROFESSIONAL TRAINING FOR SAFER TRAFFIC AND WELL TRAINED DRIVERS
The certified professional training of instructors, licensed theoretical lecturers, examiners of the theoretical part of the exam and examiners of driving a motor vehicle was held on Saturday, March 11, organized by the Faculty of Traffic of "Apeiron" University, with the approval of the Ministry of Education and Culture of the Republic of Srpska and the Institute for adult education. About 150 participants attended professional training and received certificates valid for issuing licenses in Bosnia and Herzegovina.
As improvement in road traffic requires concrete answers and actions to solve the problems we face every day, the Faculty of Traffic, as part of activities aimed at increasing the level of road traffic safety, organized professional training for those who prepare new drivers. "Great support was given to us as sponsors by Business Technical Center Neškovic doo Istočno Sarajevo, EuroExpress Express Post, Semberija Transport, Logistika Grbić, Auto-moto Association of RS and XE Express Express Post", emphasized Prof. Dr. Danislav Drašković, Vice Dean of the Faculty of Traffic and President of the Organizing Committee.
This type of professional development has already been organized six times at the University of Apeiron, and the Faculty of Traffic announces that similar events will be organized in the future.
Banja Luka, March 11, 2023
Public Relations Department