RUSSIAN LANGUAGE DAY AT APEIRON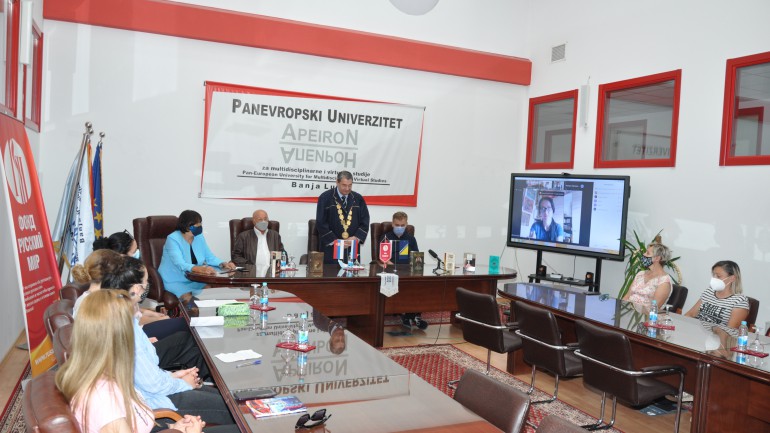 On June 11, the Day of the Russian Language was celebrated at the Faculty of Philological Sciences of the "Apeiron" University. The ceremony was opened by the rector, academician prof. Dr. Zoran Ž. Avramović also recalled the great words of Stefan Nemanja. - In front of the Museum of the Republic of Srpska, there is a monument erected in honor of Saint Sava's father, on which it is written: "Keep, my dear child, your language like the earth", emphasized the rector.
Vice-Rector for Scientific Work and International Cooperation Prof. Dr. Sanel Jakupović also emphasized the importance of language, culture and tradition as a medium that encourages intercultural exchange. There was a tribute on the theme "Great and Powerful" and students recited Alexander Pushkin's poems and their original translations of those poems.
Professor Dr. Branimir Čović gave a speech on the topic "The Russian language from AS Pushkin to today".
"Certainly a Russian "brand" from the beginning until today, Pushkin left a mark that in one word affirms the Russian language, Russian culture and art, said Professor Čović.
Download the sermon
Through the zoom application, asst. Dr. Aleksandar Shuklin, who lives in Russia and teaches at several faculties of the Russian Federation, but also teaches students of the Faculty of Philological Sciences of "Apeiron" University.
The Day of the Russian Language is an international day dedicated to the Russian language. If we consider all the Slavic languages, Russian is the most common in the whole world. Its geographical location goes beyond Russia itself, this language is spoken on every continent in the world. There is a list of ten languages ​​that are most common around the world and of course, there is the great Russian language.
This is a holiday that was established by the UN in 2010, and in the Russian Federation they started celebrating it in 2011 as a Russian national holiday. It is celebrated on June 6, the birthday of the great Russian poet Pushkin.
- Today, Pushkin is deservedly known as the true creator of the literary Russian language. Pushkin did so much for the Russian language that we can talk endlessly about his merits in this field. Many people know this man outside their homeland and are happy to read his works in the original, trying to understand the mysterious Russian soul through words, at least a little, Prof. Dr. Larisa Čović, Dean of the Faculty of Philological Sciences.
June 11, 2021