EXPERTS FROM GREAT BRITAIN, ITALY AND THE SURROUNDING COUNTRIES PARTICIPANTS OF THE "APEIRON" UNIVERSITY CONFERENCE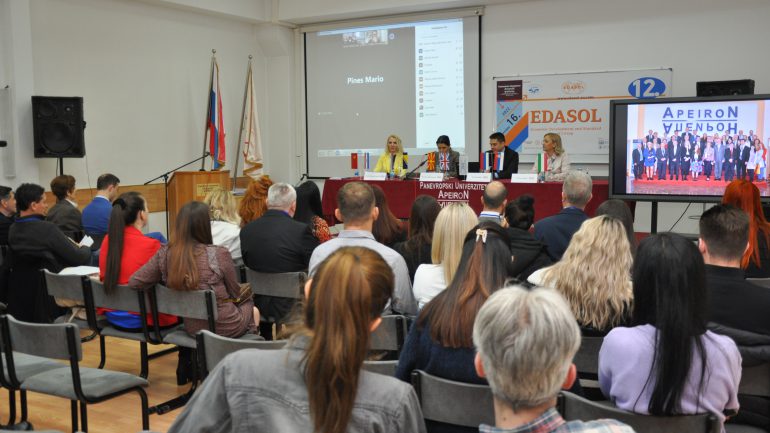 Experts from Great Britain, Italy and neighboring countries, participants of the conference of the University "Apeiron"
The international scientific conference "EDASOL 2022" was held
The international scientific conference on economic development and living standards "EDASOL 2022" organized by the Pan-European University, was held for the twelfth year in a row on December 16 with over 20 scientific papers and a hundred local and participants from Serbia, Great Britain, Croatia, Italy, Montenegro, Macedonia, Slovenia,
Experts, scientists and students were brought together by the topic "The impact of the crisis on the economic flows of the countries of the Western Balkans" and the conference was held in English.
The primary goal of our scientific meeting is to bring together international experts from the academic community, scientific research institutions and business who are relevant to the wider field of economy and development in the context of the digital economy and industry with an emphasis on the countries of the Western Balkans. The conference provides a platform for the exchange of knowledge, ideas and results between science and business, emphasized prof. Dr. Sanel Jakupović, president of the Organizational Committee of the Conference. He added that all presented works will be forwarded to editorial boards for review and those that meet the criteria will be published in the scientific journal "EMC REVIEW" which is indexed in the ESCI (WoS) database.
Prof. Prof. Dr. Mirjana Kljajić Borštnar, full professor at the Information Systems subject at the Faculty of Organizational Sciences, University of Maribor. Prof. Mirjana focused her research on decision support systems, data mining, organizational learning and digitization.
"Innovation, digitalisation and reindustrialisation - opportunities for the Balkan countries" was the topic of Dr. Dragana Radičić, associate professor at Lincoln International Business School, University of Lincoln.
Dr. Marko Ćirović, assistant professor at the Faculty of Organizational Sciences of the University of Belgrade at the Department of Management, Technology, Innovation and Sustainable Development spoke about the adoption of ecological communications and sustainable consumer behavior - "Neuro CSR".
The organizer is the Faculty of Business Economics of the Pan-European University.
December 16, 2022
Public Relations Department