ITeO conference on September 23, 2022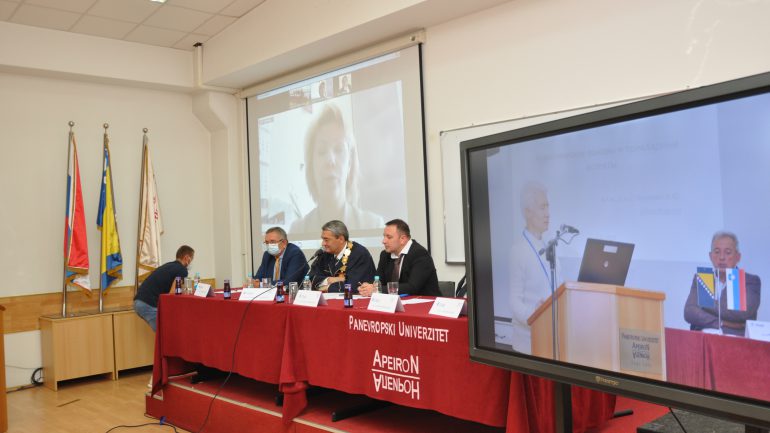 Introductory topic of the 14th conference dedicated to information systems and people with disabilities
The Information Technology for e-Education Conference - ITeO 2022 will be held on September 23 (Friday) 2022 at 11 a.m.
- 34 papers were accepted, and in addition to domestic ones, researchers from Azerbaijan, China, the USA, the Russian Federation, North Macedonia, Bulgaria, Serbia, Croatia, and Montenegro will participate.
In the introductory lecture, prof. Dr. Pavle Gladović with three co-authors: Igor Velić, Vojislav Jović and Ivica Milojević.
Also, the introductory paper about the first woman programmer, "Ada Biyron", will be presented by prof. dr Nedim Smajilović, said academician prof. Dr. Zoran Avramović, president of the Program Committee of the Conference and winner of the gold medal of the Russian Academy of Sciences for his contribution to electrical engineering.
Guests from the prestigious university of Baku, Azerbaijan will speak on the topic: Digital education: as a cyber-physical-social system project. Jaroslav Lupačov, a participant coming from the USA, focused his scientific work on the development of information systems in insurance companies.
For the fourteenth year, the Faculty of Information Technologies of "Apeiron" University, through the organization of this scientific meeting, strives to acquaint its participants with the impact of advanced ICT in electronic education, formal and informal, as well as with the application of information technologies in all spheres of life.
In previous years, ITeO produced over 500 scientific research papers and the best of them were published in the international scientific journal of the University "Apeiron" - JITA, which presented new development technologies and innovations in the sphere of establishing an information society, and promoted the exchange of information and knowledge in research work.
Again this year, the sponsors are the Academy of Sciences and Arts of the Republic of Srpska and the Ministry of Science and Technology of the Republic of Srpska.
Public Relations Department
September 22, 2022