OF ALL THE SIMILAR INSTITUTIONS I'VE BEEN AT, YOU ARE THE BEST - SAID RAMI BLAIR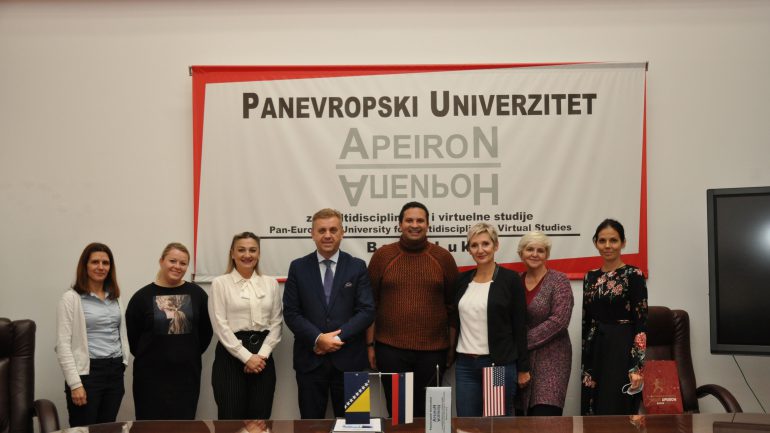 OF ALL THE SIMILAR INSTITUTIONS I'VE BEEN AT, YOU ARE THE BEST - SAID RAMI BLAIR
A representative of the American Embassy in BiH visited "Apeiron"
Rami Blair, deputy director of the office of the American Embassy in Bosnia and Herzegovina in Banja Luka, visited the Pan-European University on October 28 and in a conversation with the rector, prof. Dr. Sanel Jakupović concluded that it is an ideal time for cooperation through the implementation of an exchange program, because many students and teachers have not been to America, but also that "Apeiron" can be one of the educational institutions for the studies of Americans who want to study abroad.
You are much better than all similar institutions I have attended. You have facilities and resources that many American universities do not have. I see that your students are interested in serious work. It is very important for us to work with the Pan-European University, to jointly organize programs involving the youth, because we want the children to see their future here. We work with those who want help, who want to develop and progress, said Blair. He added that he has many contacts in America and is ready to make them all available to Apeiron University for development and new research endeavors.
They also discussed the cooperation of the American Embassy in Bosnia and Herzegovina with the "Gemit-Apeiron" High School Center and the director, Assoc. Dr. Višnja Kojić presented in detail the way of working with students and indicated the areas where cooperation would be important for high school students.
28.10.2021/XNUMX/XNUMX Public Relations Department