FOR NEW EXPERIENCES AND KNOWLEDGE, THE STUDENTS WENT TO THE PENAL AND CORRECTIONAL INSTITUTE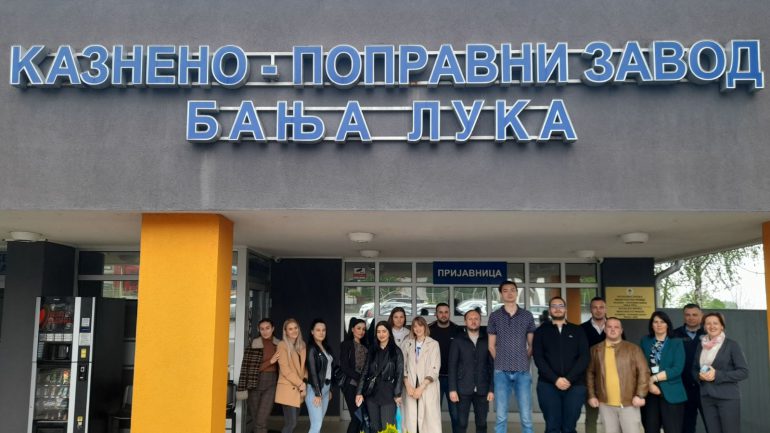 FOR NEW EXPERIENCES AND KNOWLEDGE, THE STUDENTS WENT TO THE PENAL AND CORRECTIONAL INSTITUTE
On May 8, students of the XNUMXrd year of the Faculty of Law of the Pan-European University Apeiron with Professor Tamara Marić visited the Banjaluka Penitentiary (KPZ). The visit was organized as part of the practical part of the Penology course.
During the day-long tour, the students were introduced to the jobs and daily activities performed by members of the prison police, treatment service and other prison services.
They visited the reception-discharge department of the prison, where all prisoners stay when they come to serve their prison sentences, the health service, the department with increased supervision and intensive treatment, solitary confinement, common rooms used by prisoners as well as visiting rooms. The students visited the custody department and the Correctional Home for Juveniles, which is located at the Banjaluka Penitentiary, where younger juveniles carry out educational measures.
The Banja Luka Penitentiary, better known as "Tunjice", is a closed institution, which is part of and under the supervision of the Ministry of Justice of the Republic of Srpska. It has been located in its current location since 1982 with facilities built in accordance with European standards in the area of ​​enforcement of criminal sanctions.
This is an opportunity to once again thank the Ministry of Justice and the Banjaluka Penitentiary Administration for the opportunity for our students to gain new knowledge and experience through the visit.
May 15, 2023
Public Relations Department