THE TEAM OF THE FACULTY OF SPORTS SCIENCES WON THE FIRST PLACE IN SMALL FOOTBALL
THE RECTOR OPENED THE STUDENT SPORTS GAMES AND AWARDED THE FIRST CUP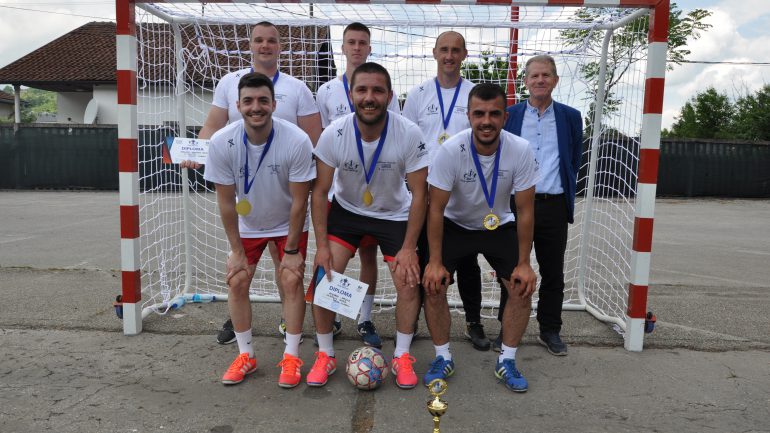 The first place in indoor soccer was won by the team of the Faculty of Sports Sciences
The rector opened the student sports games and awarded the first trophy
The team of the Faculty of Sports Sciences won the first place and FIT S-control the second place in indoor soccer at the Sports Game event - "Apeiron" Trophy, which was organized by our Faculty of Sports Sciences. The initiative for the Sports Games came from our Student Parliament.
Asmir Avdukić was declared the best goalkeeper, and Benjamin Mauzer was declared the best player. The event was officially opened by the rector of the Pan-European University, prof. Dr. Sanel Jakupović. A total of 11 teams in indoor soccer fought for first place today.
About 140 participants were registered for table tennis, volleyball, indoor football and basketball. The participants are students of the Pan-European University and students of the "Gemit-Apeiron" Secondary School Center. The general sponsor of our games is the agency Experience Work and Travel doo On the initiative of the Student Parliament of our university, the event was organized by the Faculty of Sports Sciences.
We will continue the event with basketball and volleyball on Thursday, May 25, and table tennis will take place on Friday. It is interesting that the Student Sports Games were organized during the period when the European Football Week is being celebrated.
May 24, 2023
Public Relations Department