THE RECTOR AND THE REPRESENTATIVES OF THE GERMAN COMPANY NEGOTIATED ON PAID INTERNSHIPS FOR STUDENTS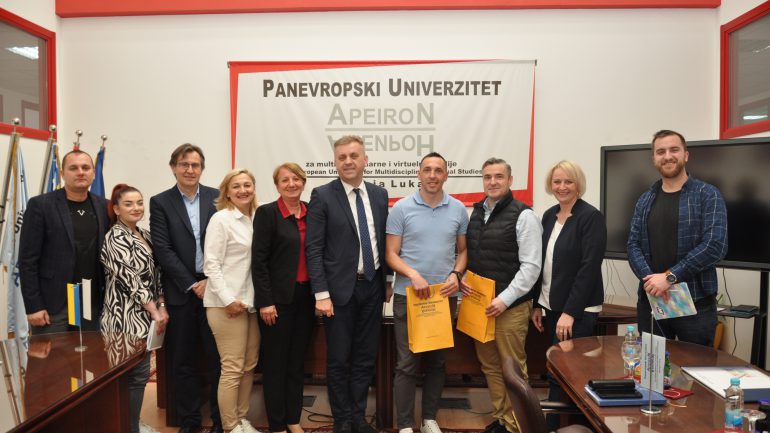 "Apeiron" hosts the German giant
THE RECTOR AND THE REPRESENTATIVES OF THE GERMAN COMPANY NEGOTIATED ON PAID INTERNSHIPS FOR STUDENTS
On Friday, March 24, representatives of the German company Pichlmayr Wohn-und Pflegeheime visited the Pan-European University and talked with the rector, Prof. Dr. Sanel Jakupović about the possibilities of paid practice for our students in over 120 homes for the care of the elderly that they own throughout Germany. .
The meeting was attended by ppa in front of this German giant. Michael Schwartz, head of the human resources department, Daniela Welle, human resources officer and Sanel Halilović, coordinator for the Western Balkans, and at the same time a graduate of "Apeiron" University who graduated from our Faculty of Health Sciences nine years ago.
Also, the guests showed great interest in the direct recruitment of graduates of the Faculty of Health Sciences to work in Germany.
"This is only the first phase, which involved getting to know each other and starting negotiations. In the near future, we will continue with activities regarding the implementation of paid internships in Germany," said Rector Jakupović.
In addition to the rector, two vice-deans of the Faculty of Health Sciences, prof. Dr. Branislav Mihajlović and Prof. Dr. Gordan Bajić and assistant director for legal affairs, Elveldina Tatarević.
Banja Luka, March 27, 2023
Public Relations Department