UNIVERSITY "LOMONOSOV", STATE INSTITUTE OF RUSSIAN LANGUAGE "PUSHKIN" FROM MOSCOW AND "APEIRON" BROUGHT EXPERTS FROM THREE CONTINENTS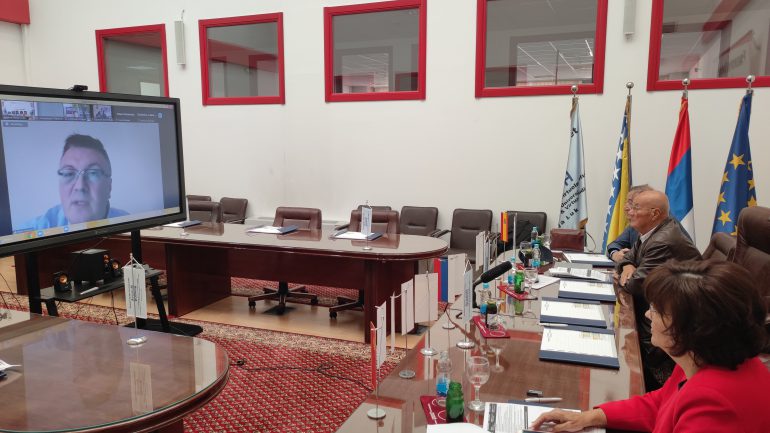 "Lomonosov" University, "Pushkin" State Institute of the Russian Language from Moscow and "Apeiron" brought together experts from three continents
With 45 participants from 10 countries, the scientific conference "Apeirona" and two Russian universities ended
On April 15, the Faculty of Philological Sciences of the Pan-European University once again concluded the international scientific-practical conference "New and Traditional in Teaching and Learning Russian as a Foreign Language" with great authors and scientific papers, said Prof. Dr. Larisa Čović, president of the organizing committee. She added that the co-organizers are the State Institute of the Russian Language AS "Pushkin" (Moscow) and the Higher School of Translation of the Moscow State University "Lomonosov" (Moscow).
The conference was held online via the "Zoom" platform, and was dedicated to issues of the global system of using special online technologies in learning Russian as a foreign language, new methods in studying Russian as a foreign language, as well as problems of translation via the online platform. Zoom".
Rector of the State Institute of the Russian Language AS "Pushkin", Margarita Nikolaevna Rusecka, in her welcome address, emphasized that the conference is of exceptional importance and that the organization of the Pan-European University is at the highest level.
In the introductory presentation, the director of the University of Translation "Lomonos", academician, prof. Dr. Nikolaj Konstantinovič Garbovski spoke on the topic "Translatability in the world of the cognitive model of artistic translation". In addition to domestic participants, 45 participants from 10 countries from three continents registered: the Russian Federation, the United States of America, Spain, Greece, Serbia, Iran, Pakistan, the Republic of China, Macedonia and Bulgaria. There is a special section for young scientists - postgraduates, masters and doctoral students.
The scientific work that has attracted particular attention is "Njegoš's song Šćepan Mali and Russian translations" (versification and poetics) by Professor Dr. Radmil Marojević, which considers the tonal characteristics of Njegoš's asymmetrical ten in the song Šćepan Mali, the nature of the symmetrical sixteenth from the aspect of the relationship of that verse with symmetrical eights in that composition, while the third chapter is dedicated to the numbering of the verses in the song.
They also talked about synchronous and asynchronous communication when learning the Russian language at a distance, the speaking culture of translators, experience in creating nationally oriented dictionaries, textbooks and teaching aids, and many other topics.
April 15, 2022
Public Relations Department