WITH DOMESTIC AND EUROPEAN RESEARCHERS, XIII "EDASOL" DEDICATED TO THE CIRCULAR ECONOMY FINISHED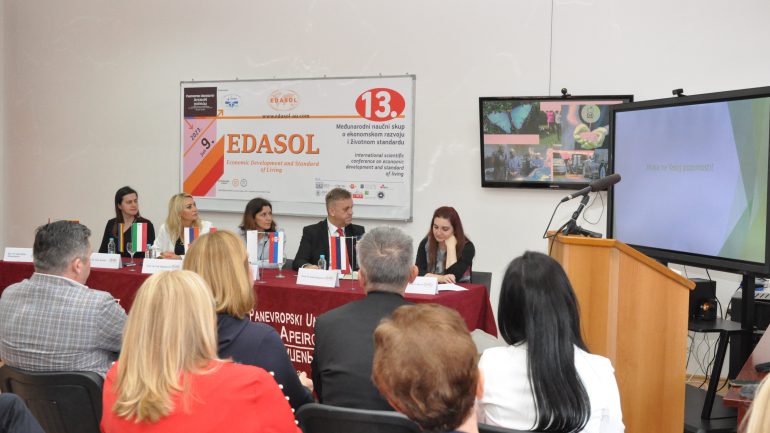 Together with domestic and European researchers, the XIII "EDASOL" dedicated to the circular economy was completed
On June 9, experts from 9 countries gathered the International Scientific Meeting on Economic Development and Living Standards "EDASOL 2023", which was organized for the thirteenth year in a row by the Faculty of Business Economics of the Pan-European University "Apeiron". This year, the authors devoted themselves to the main topic: Circular economy as part of the concept of sustainable development of society.
The introductory paper was presented by Anita Kulaš Mirosavljević, assistant professor at the University of Slavonski Brod, Department of Economics. Special emphasis in the work is placed on the research of human potential, communication and ethics and social responsibility of all participants involved in business processes. Professor Anna Dybala, our guest from Jan Kochanowski University from Poland, and Katarina Aškerc Zadravec, vice dean for quality at the Business School in Ljubljana, where she is also the manager of internationalization affairs, lecturer and researcher with a focus on the internationalization of higher education, also gave an introductory presentation.
Local authors and experts from Slovakia, Poland, Romania, Italy, Slovenia, Serbia, Croatia and Montenegro presented 14 scientific research papers.
- The primary goal of the Conference is the gathering of international experts from the academic community, scientific research institutions and business who are relevant to the wider field of economy and development in the context of sustainable development and circular economy. The conference provides a platform for the exchange of knowledge, ideas and results between science and business, said Prof. Dr. Vesna Novaković, president of the Organizing Committee. She added that all presented works will be forwarded to editorial boards for review and those that meet the criteria will be published in the scientific journal "EMC REVIEW" which is indexed in the ESCI (WoS) database.
See more about topics and presenters at http://www.edasol-au.com/.
June 9, 2023
Public Relations Department