THE CULTURE ATTACHER CEREMONY OPENED THE CORNER OF RUSSIAN LITERATURE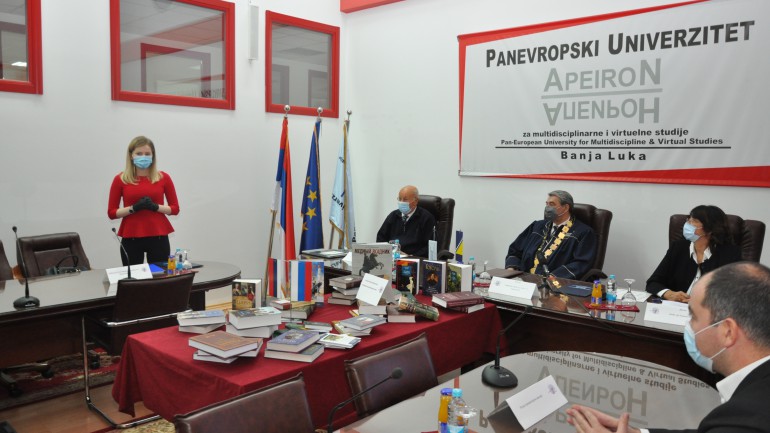 On December 4, the Cultural Attaché of the Embassy of the Russian Federation Anastasia Vladimirovna Gajdalenok officially opened the Corner of Russian Literature at the Pan-European University. The "Russian Humanitarian Mission" donated 600 books, educational, methodological and fiction literature to the Faculty of Philological Sciences. The donation was presented by the head of the Russian humanitarian mission in the Balkans, Branimir Nešić.
"The embassy will continue to advocate for the support of Apeiron University." I feel at home here, among my friends. I especially thank the students of the Faculty of Philological Sciences who decided to study the Russian language. My inspiration for the work is your interest in the Russian language" said Anastasia Gajdalenok.
As part of the festivities, a literary evening dedicated to the 125th anniversary of the birth of Sergei Yesenin was held. Expositions about Jesenin were prepared by professor Branimir Čović and students of the Faculty of Philological Sciences. Via the Zum application, the students of the School of Economics from Doboj, who were prepared for this event by their young professor of the Russian language, and the graduate student of "Apeiron" Borislav Marić, joined the program with the poetry of Jesenjina.
December 4, 2020 - Public Relations Department