"HIGHWAYS OF THE REPUBLIC OF SERBIA" AWARDED OUR TAMARA WITH A SCHOLARSHIP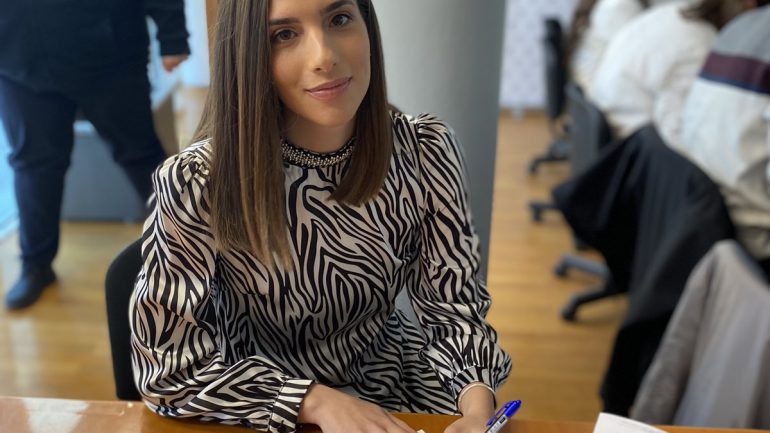 The excellent results of a student from a private college led to a scholarship from a state-owned company
From "Autoputev" 300 KM per month to students of the University of Banja Luka, East Sarajevo and "Apeiron"
A total of nine students from the University of Banja Luka, East Sarajevo and the Pan-European University "Apeiron" received scholarships from "Autoputev Republika Srpska", which were presented on October 26 by Mr. Slobodan Stanarević, acting director of this company.
Tamara Drljača, a student of the Faculty of Business Economics of "Apeiron" University, received a scholarship - 300 KM per month for the next academic year, thanks to the achieved results, very high grade point average and overall effort. This amount will also be awarded to students of the Faculty of Architecture, Civil Engineering and Geodesy and the Faculty of Science and Mathematics of the University of Banja Luka and the Faculty of Traffic in Doboj, University of East Sarajevo.
This is an incentive, an exceptional reward for young people and a topic for thinking as much as when the effort pays off, said Tamara.
Director Stanarević reminded that he belonged to the first generation of the then Faculty of Architecture and Construction and that he is honored to reward students today in the role of director. He added that these are the first scholarships awarded by the company he heads, and that the recommendations for scholarship recipients came directly from the management of their faculties.
Prof. Dr. Mirjana Landika, dean of the Faculty of Business Economics, thanked the director and "Autoputevi", and told the students that their motivation for employment should not be just the salary.
Try to do what you love, because then you won't feel like you're working, emphasized the professor.
October 27, 2022
Public Relations Department