WE ARE WAITING FOR YOU AT THE "APEIRON" STAND WITH 250 TITLES AND A 20% DISCOUNT
DON'T MISS THE BOOK FAIR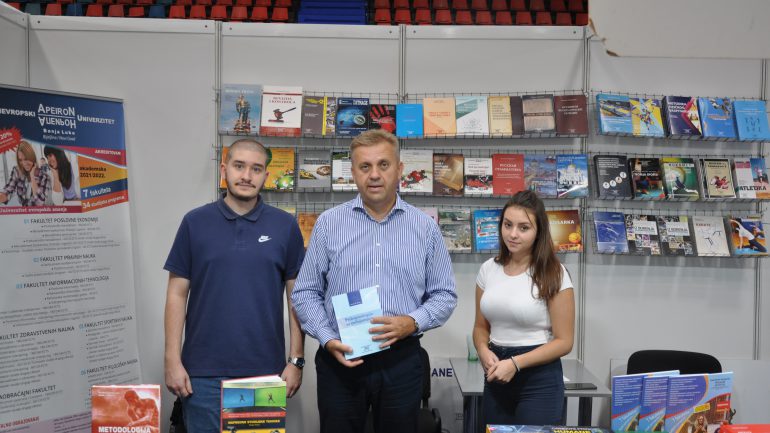 WE ARE WAITING FOR YOU AT THE "APEIRON" STAND WITH 250 TITLES AND A 20% DISCOUNT
DON'T MISS THE BOOK FAIR
The Pan-European University "Apeiron" will participate among numerous exhibitors at the 28th international book fair "Banjaluka 2023", which will be held from September 13 to 19, organized by "Glas Srpska", in the "Borik" Sports Hall.
Those who decide to purchase titles from our stand receive a special discount of 20% on all books.
It is the nineteenth year in a row that the "Apeirona" Publishing Center has participated in the Voice of the Book Fair. Compared to the previous year, the stand of the Pan-European University is richer for 12 textbooks, 6 scientific-professional magazines and several anthologies. By the way, within the scope of its publishing activities, the University has so far published around 270 scientific works, mostly university textbooks, followed by scientific and professional monographs, collections of works and magazines.
Many reputable publishing houses from the country and the region will also present themselves at the fair.
- The official opening is scheduled for September 13 at 18 p.m. with a speech by writer Ranko Risojević, and at 19 p.m. his book "My Books" will be promoted, said Petra Ivić, fair manager.
Book lovers can visit the fair from 10 a.m. to 20 p.m.
Banja Luka, September 12, 2023
Public Relations Department