DAYS OF INCLUSIVE SPORTS AT APEIRON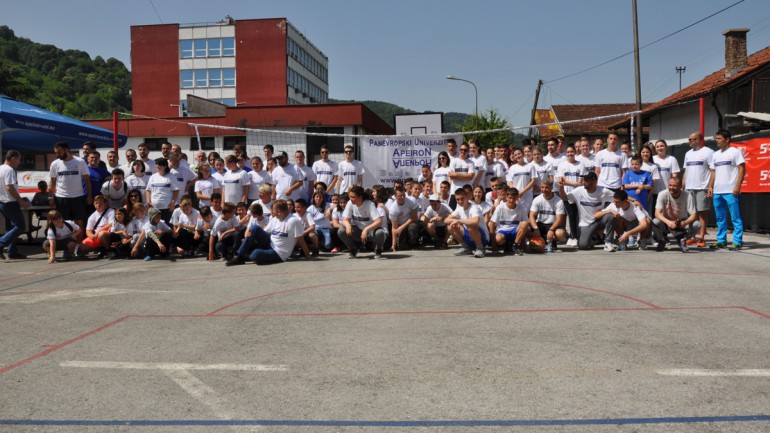 The Faculty of Sports Sciences and the Special Olympics of Bosnia and Herzegovina in a sports event
The Pan-European University "Apeiron" Banja Luka and the Special Olympics of Bosnia and Herzegovina are organizing the sports event "Days of Inclusive Sports at Apeiron" on June 2. The ceremonial opening and parade of participants is planned at 10:15 a.m. on the open field in front of the University.
In the gymnasium of SŠC "Gemit-Apeiron" Banja Luka and on the beach "Vrbas" (near the Green Bridge) inclusive sports competitions will be organized in basketball, football, volleyball, table tennis, as well as a skills training ground for children from two to seven years ("Young athletes" program). Competitions start at 08.30:13 and will take place until 30:XNUMX.
- The goal of the event is for the wider social, scientific and professional public to become more actively involved in improving the quality of life of people with special needs, as well as for people who work directly with those who engage in sports activities to be additionally educated and gain the necessary experience for further activities, he emphasized is Assoc. Dr. Velibor Srdić, Dean of the Faculty of Sports Sciences.
Students from the Center "Protect me" Banja Luka, JU Center "Sunce" Prijedor, Special Sports Club "Banja Luka", as well as medalists and finalists of the recently held Special Olympics in Austria, as well as students from Banja Luka elementary schools, are registered for the competitions. and secondary schools. Volunteer support consists of students, teachers and associates of the University of "Apeirona", with whom an educational seminar on inclusive sports was held on May 29.
The aforementioned program activities are the result of the successful implementation of the Special Olympics BiH project, the Faculty of Sports Sciences of the Pan-European University "Apeiron" Banja Luka and UNICEF.
The organizers pointed out that it is primary to provide space for children and youth with special needs to present their achievements and enable their active participation in all sports. The event is also held as part of the "European Football Week". In particular, morphological, motor and functional diagnostics of athletes with special needs - participants of the Winter Olympic Games of the Special Olympics in Austria will be carried out.