THE DIRECTOR OF THE BANJALUCA STOCK EXCHANGE HOSTS THE STUDENTS OF "APEIRON"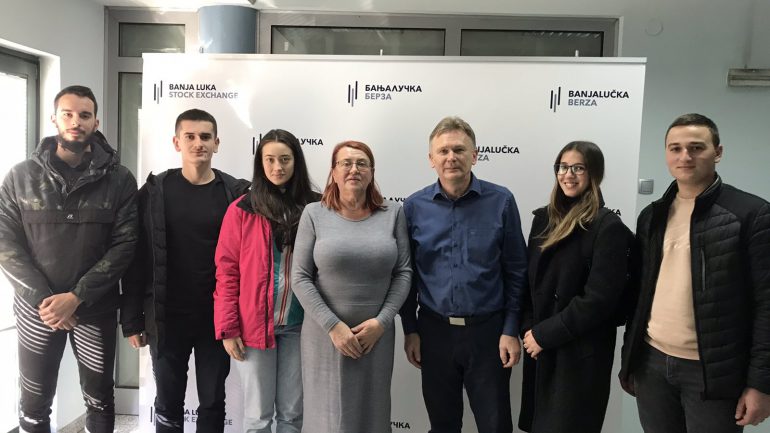 Director of the Banja Luka Stock Exchange hosts the students of "Apeiron"
Students of the Faculty of Business Economics and Legal Sciences as part of activities on the subjects Securities and Banking Law and Securities, organized by prof. Dr. Zorice Drljača visited the Banja Luka Stock Exchange on November 25. On this occasion, they learned about the operational work of the stock exchange as the organizer of the securities market in the Republic of Srpska.
The host for the students was the director of the Banja Luka Stock Exchange, Mr. Milan Božić with his colleagues, who introduced the students to the importance of the stock market, the development of the capital market of the Republic of Srpska, the operation of the stock exchange, the trading of securities on the Banja Luka Stock Exchange, especially the trading of Telekom Republika Srpska shares, bonds and treasury bills of the Republika Srpska. The director informed the students about the advantages and importance of stock trading, especially in the future, stressing that the rules of stock trading are applied in the same way on all stock exchanges and that, if students decide on this type of activity, they can improve their skills in the same way in Banja Luka. and in any other country.
Prof. Dr. Zorica Drljača expressed her great gratitude to Director Božić and all the employees of the Banja Luka Stock Exchange, emphasizing that the visit is extremely beneficial for the students and that, in addition to regular lectures in this area, it will give students a much broader knowledge of the stock market as an essential element of the capital market infrastructure. in the Republic of Srpska.
Banja Luka, November 26, 2022
Public Relations Department