EXPERTS FROM SEVEN COUNTRIES EXCHANGED SCIENTIFIC AND PROFESSIONAL KNOWLEDGE AND EXPERIENCE THROUGH IteO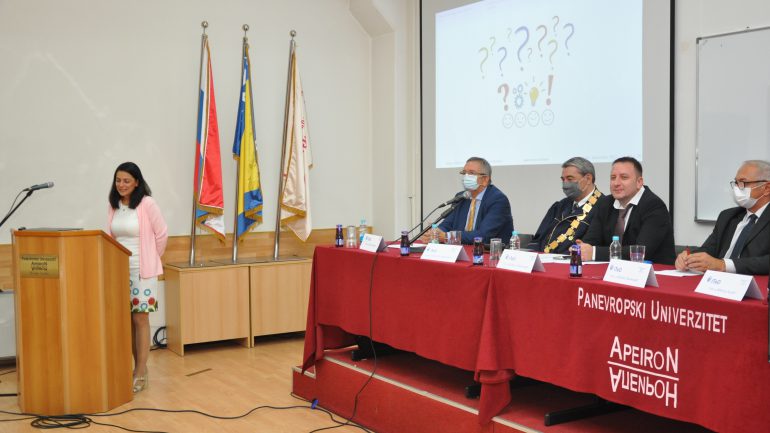 The international scientific conference has ended Information technologies for e-education - IteO
EXPERTS FROM SEVEN COUNTRIES EXCHANGED SCIENTIFIC AND PROFESSIONAL KNOWLEDGE AND EXPERIENCE
On September 24, authors from Serbia, Russia, Ukraine, Croatia, USA, Montenegro, Republika Srpska and Bosnia and Herzegovina exchanged professional and scientific knowledge and experiences at the 13th International Scientific Conference Information technologies for e-education - IteO.
The Faculty of Information Technologies, which is the organizer of the meeting, said that the ITeO accepts the highest quality works from the beginning and that 52 of the 32 applications were accepted. The introductory lecture on the topic "ROLE, SIGNIFICANCE AND APPLICATION OF MODERN SOFTWARE VERIFICATION TECHNIQUES" was held by prof. Dr. Milena Vujošević Janičić, from the Faculty of Mathematics in Belgrade.
A special contribution was made by renowned participants who are appearing at our conference for the first time. I mean prof. Milena Vujošević, Ph.D., and the work on which the first author is Siniša Arsić, Ph.D., Dipl.Inž.org, attracted exceptional attention. science, together with our professor Dr. Dragutina Jovanović. The group of three works that attracted the most attention includes the work of FON PhD student Nenad Badovinac on the topic "CLASSIFICATION OF WEBSITES BASED ON SUPPORT VECTOR MACHINE", said academician prof. Dr. Zoran Ž. Avramović, Rector of "Apeiron" University and President of the IteO Program Board. He emphasized that the Conference was also honored by a group of scientists and researchers from Kharkiv (Ukraine) led by Academician Valery Timofejevic Domanski.
The organizers stated that local researchers, as well as researchers from Perm (Russia), New York, Croatia, Montenegro, and Serbia, made a great contribution to the conference. For the thirteenth year in a row, the Faculty of Information Technologies of "Apeiron" University, through the organization of this scientific meeting, deals with the impact of advanced ICT in electronic education, formal and informal, as well as with the application of information technologies in all spheres of life. In previous years, ITeO produced around 500 scientific research papers and the best of them are published in the international scientific journal of the University "Apeiron" - JITA, which in previous editions presented new development technologies and innovations in the sphere of information society, and promoted the exchange of information and knowledge in research work.
Banja Luka, September 28, 2021. Department for Public Relations