THE 39TH SESSION OF THE RECTOR'S CONFERENCE OF THE REPUBLIC OF SERBIA WAS HELD AT APEIRON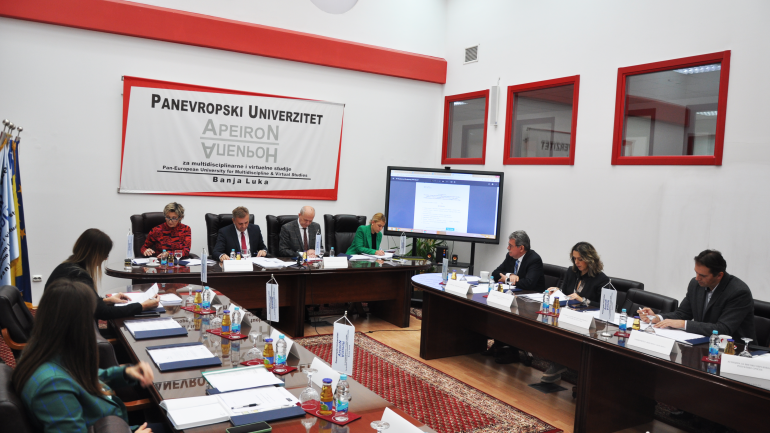 THE 39TH SESSION OF THE RECTOR'S CONFERENCE OF THE REPUBLIC OF SERBIA WAS HELD AT APEIRON
Topics dedicated to the development of higher education gathered rectors in Banja Luka
At the 39th regular session of the Rectors' Conference of the Republika Srpska (RKRS), chaired by "Apeiron" University, held on Tuesday, November 15, 2022, the new Secretary General Elveldina Tatarević was appointed. The appointment decision was made due to the retirement of Jelena Davidović, who held this position in the previous period. From October 1, 2022, Elveldina is also the general secretary of the Pan-European University "Apeiron".
Chairman of the Rector's Conference prof. Dr. Sanel Jakupović said that at the session, among other things, details regarding the round table with the Rector's Conference of Serbia-CONE, which will be organized in the near future, were agreed upon.
- At the session, a proposal for an agreement between RKRS and KONUS was adopted. "We adopted the proposal to create a website for the Rectors' Conference, given that all the information has been published so far through the website of the university that presided over the Conference at that time," emphasized Professor Jakupović, rector of the Pan-European University "Apeiron". He added that the proposal of the students of the University of Banja Luka to establish a student non-profit organization "Erasmus Student Network" Banja Luka was supported at the session.
Director of the Agency for the Development of Higher Education and Quality Assurance of Bosnia and Herzegovina, prof. Enes Hašić, Ph.D., spoke about the adoption of this Agency's recommendation for the creation of a common model for the accreditation of study programs in Bosnia and Herzegovina.
The Rector's Conference of Republika Srpska supported the efforts of competent educational authorities and agencies at the level of Republika Srpska and Bosnia and Herzegovina and offered additional professional assistance.
We remind you that the chairmanship of the Rectors' Conference from February 2022 was taken over by the Pan-European University "Apeiron", and the rector, prof. Dr. Sanel Jakupović was appointed chairman.
Full members of the Rectors' Conference are the rectors of eight public and private licensed universities in the Republic of Srpska.
November 15, 2022
Public Relations Department