SECOND PLACE FOR OUR ASSISTANT PROFESSOR IN THE EUROPEAN COMPETITION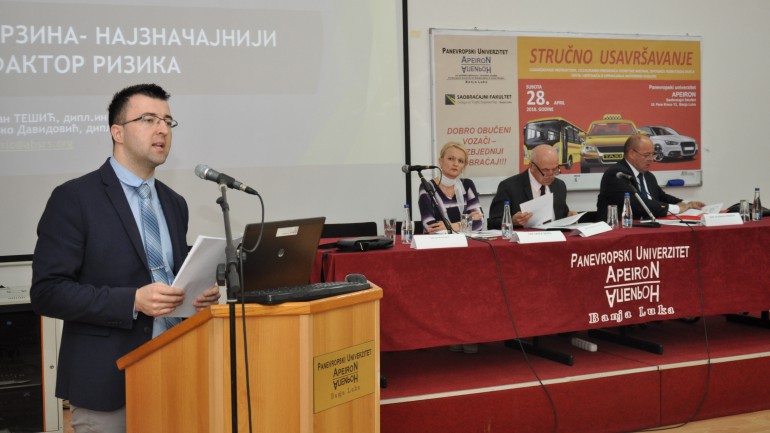 An award-winning idea in Europe that could bring multimillion-dollar savings in traffic
Milan Tešić, PhD assistant professor at the Pan-European University and head of the Department for Drivers, Vehicles and Roads in the Traffic Safety Agency of the Republic of Srpska, at the end of September won second place in the field of road traffic at the European competition of project ideas of young researchers from 45 countries of the European Union.
The competition for young innovators was organized by the European Commission as part of the TRAVision2020 conference, which was held online, based in Brussels.
Researchers from candidate countries and potential candidates for EU membership, as well as countries of the European Economic Community, also participated.
This young assistant professor at the Traffic Faculty of "Apeiron" University emphasized that by developing and applying his idea, the number of traffic accidents and their consequences can be greatly reduced, and the money saved can be directed to other segments.
"My project idea - ranking of safety levels and identification of the most significant indicators of traffic safety, won the second place and promoted the Republic of Srpska in the right way. The idea deals with the behavior and culture of road users and it is possible to fully implement it in the Republic of Srpska.", Tešić points out.
He added that the main impetus for the development of this idea was the fact that the total socio-economic costs of traffic accidents in the Republic of Srpska, Serbia, the region and beyond are high.
Tešić points out that, if his idea were to be applied in the area of ​​regions, police administrations, and local self-government units in the Republic of Srpska, assuming that only one accident with a fatality and one traffic accident with a seriously injured person would be prevented, the savings would be around half a million euros per year.
"The visual representation of this idea can be presented through dedicated applications for traffic safety system managers or platforms of existing navigation systems, on the basis of which traffic safety information is visible to all traffic participants. By creating such a dedicated web application, Republika Srpska as well as Serbia will be the first countries in Europe to systematically monitor the level of traffic safety using the composite safety index., Tesic said.

The first place was won by the University of Turin (Italy), and the third place went to the Technical Faculty of Munich - BMW Development Institute (Germany). Milan Tešić participated as a doctoral student at the Faculty of Traffic, University of Belgrade.
Link to the award ceremony video: https://www.travisions.eu/TRAVisions/young_researcher_results_2020/;jsessionid=a616d73e9cf826c0ad1111f2aaf2
December 3, 2020 - Public Relations Department