NEW SCIENTIFIC NAMES OF CONFERENCES WHICH WERE ONCE STARTED AT "APEIRON" BY RANKO RAJOVIĆ, DANE KORICA, MILAN ČOH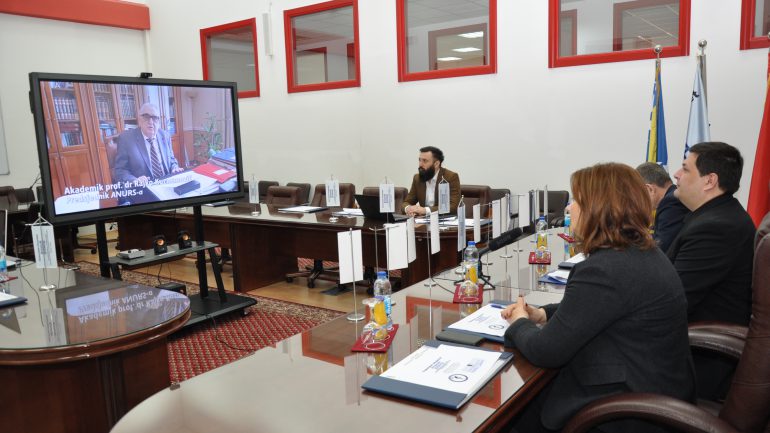 The international scientific meeting "Sports Science and Health" was held for the twelfth year in a row
Congratulations to the organizer on a very recognizable conference and on the "Apeiron" magazine, for which scientists fight to publish their work, said Nijaz Skender, professor of the Faculty of Education at the University of Bihać and the first speaker at the twelfth international scientific conference "Sports Sciences and Health". held online on March 17, 2022.
The organizers are the Pan-European University "Apeiron" Banja Luka and its members, the Faculty of Sports Sciences and the Faculty of Health Sciences. About a hundred authors from Serbia, Croatia, North Macedonia, Turkey, Montenegro, Slovenia, Republika Srpska and Bosnia and Herzegovina participated in the conference with 41 papers and in this way contributed to current topics in the field of sports and health. Prof. Dr. Nijaz Skender spoke about the functional abilities of students as a parameter for determining the difference in the content of triglycerides, cholesterol, and sugar in the blood. The introductory lecture on the topic "Born to move" was also given by prof. Dr. Maja Pajek, vice dean for scientific work and international cooperation at the Faculty of Sports at the University of Ljubljana. With an interesting lecture by prof. Dr. Svetlana Lazić on the topic "Dalkroz method and its impact on motor skills, locomotor apparatus and movement aesthetics", the plenary session has ended.
We are proud of the fact that the meeting has been held continuously for 12 years and that every year we have an increasing number of institutions from abroad. There are three thematic areas of the scientific meeting - sports and health, physical education and school sports, training technology in sports. We dealt with very interesting topics. Prof. Dr. Velibor Srdić, president of the Conference Organizing Committee.
The conference was included in the ranking list of categorized meetings of the Ministry for Scientific and Technological Development, Higher Education and Information Society of the Republic of Srpska as a scientific meeting with international participation and this year it was officially opened by academician prof. Dr. Rajko Kuzmanović, President of the Academy of Sciences and Arts of the Republic of Srpska. The co-organizers of the scientific meeting are the National Pedagogical University from Kazakhstan, the Lipetsk Pedagogical University from Russia, the Vocational School for the Education of Teachers and Trainers in Subotica, the Faculty of Sports and Tourism, Novi Sad and the Gerlev Sports Academy, Denmark, the Faculty of Kinesiology in Split.
The conference is intended for physical education professors, sports trainers, doctors, pedagogues, psychologists, sports organizations, sports managers and other experts related to sports and health. The Pan-European University publishes the international magazine "Sports Science and Health" twice a year, which is indexed in several international citation databases.
Banja Luka, March 17, 2022
Public Relations Department