Promotion of the book by Dr. Dragan Kolev was held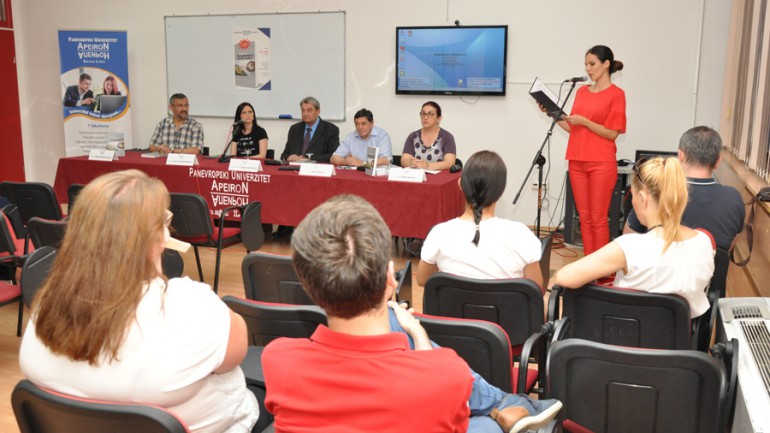 ONE OF THE FIRST MONOGRAPHS ON NEUROSCIENCE IN MARKETING IN OUR PREMISES
The promotion of the book Neuromarketing: theory and practice by our professor Dr. Dragan Kolev was held on June 28 in the premises of the Pan-European University.
The rector of the Pan-European University "Apeiron", academician prof. Dr. Zoran Avramović, assistant professor Dr. Jana Aleksić Anđelić, prof. Dr. Živorad Maličević and Prof. Dr. Nera Zivlak.
"The moment when the brain's reaction to a marketing stimulus became not only visible, but also quantitatively measurable, marketing stepped into a new area, the dimensions of which we can only guess at this moment", said the author. He also pointed out that neuromarketing represents the application of neuroscience in the field of marketing, but a completely new approach to the psychology of sales and service provision. "He tries to discover the centers in the human brain that become highly active due to the action of some external stimulus. Those cents significantly affect consumer behavior, without the consumer often being aware of it. Thus, it provides new opportunities for marketers to better understand consumer behavior and directs its scientific attention from the phenomenon of consciousness to the subconscious and emotions, emphasizes Professor Kolev.
Professor Doctor Darko Tadić said in his review: Professor Kolev's book "Neuromarketing: theory and practice" represents, if not the first, then one of the first professional monographs on this topic in our region. It is intended for experienced marketing, advertising, sales and public relations professionals, as well as students of market communications. The book presents neuromarketing as a new marketing concept, but also as a practical tool applicable in market practice. The book succeeds in taking the reader through the exciting secrets of the human mind and consumer behavior in a clear way, especially in the domain of manipulation practiced in politics or the modern market economy. I believe that with this professional monograph the author made a valuable contribution to domestic scientific thought and marketing practice and that the book will serve the application of neuromarketing principles in strengthening domestic knowledge and market practice.
July 01, 2019 - Public Relations Department