The Russian New University, "Apeiron", the Association of Serbian Translators and the Association of Russian Translators organized the conference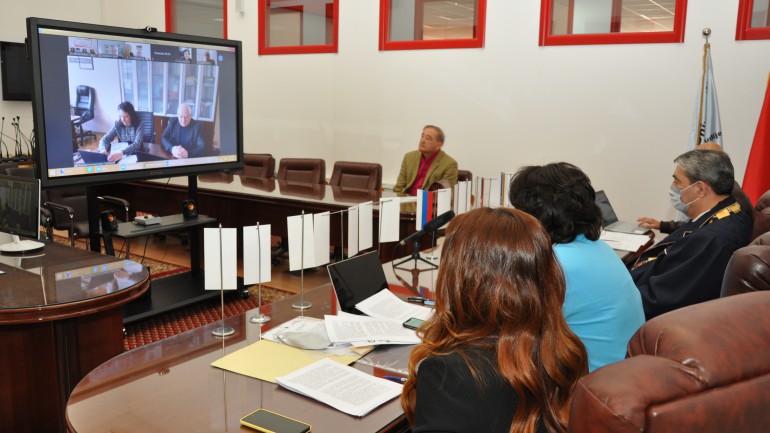 The Russian New University, "Apeiron", the Association of Serbian Translators and the Association of Russian Translators organized the conference
"New and traditional in translation studies and the teaching of Russian as a foreign language"
The Faculty of Philological Sciences of the Pan-European University "Apeiron", the Russian New University (Moscow), the Association of Translators of Russia and the Association of Translators of Serbia on Friday, March 5, organized an international scientific conference "New and Traditional in Translation Studies and Teaching Russian as a Foreign Language".
The conference was held via the Zoom application.
The introductory presentation on the topic "Digital translation and artistic creativity" was held by the dean of the Faculty of Translation of Lomonosov Moscow State University, academician prof. Dr. Nikolaj Garbovski.
Ekaterina Kudryavtseva, scientific manager of the international networked laboratories "Innovative technologies in the field of multicultural education", who spoke from Berlin, also in the introductory part, presented the topic Literary translation in the mirror of immersion reading - Lermontov "from Goethe".
Through the application, more than 80 authors from Russia, Slovakia, Spain, Republika Srpska, Greece, Serbia, Bosnia and Herzegovina, Macedonia, Germany, Czech Republic, India, China, Turkey, Uzbekistan and Karakalpakstan came forward and presented their scientific works.
"This is a great contribution to the scientific gathering dedicated to issues of the global system of using special online technologies in learning Russian as a foreign language and translation problems," said Prof. Dr. Larisa Čović, Dean of the Faculty of Philological Sciences and President of the Conference's Organizing Committee.
The conference covered the topics of translation, language and culture, problems and perspectives of distance learning of the Russian language as a foreign language, Russian language in the training system of international communication specialists and many others.
As part of the conference, a section for young scientists - master's and doctoral students - was organized. Six years ago "Apeiron" organized this conference with the Moscow State University "Lomonosov", and this year the conference was also supported by "Lomonosov". With the Russian Academy of Sciences in 2017, Apeiron also organized a conference dedicated to the same topics.
Job Convenience Form for Posting