STUDENTS HELD A ROUND TABLE WITH COLLEAGUES FROM TAMBOV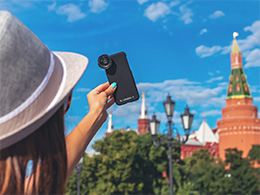 Discussed by teleconferencing
On June 16, students of the Faculty of Business Economics participated in an interactive international round table "Economy of the Future" with their colleagues from Tambov State University GR Derzhavina (Russian Federation) via video link. This type of dialogue and cooperation is carried out within the framework of the International Competition "Economy of the Future", a program aimed at the development of the student union of Tambov University.
Young researchers look at the staff of the economic future, the topic that was the focus of the discussion, in different ways.
"We need virtual occupations for the European labor market", Nikolina Haider, a student at the Faculty of Business Economics, emphasized in the discussion and added that they can be virtual lawyers, accountants, professors, etc., which she says are the professions of the future. At "Apeiron", they believe that the Competence Passport, established by the German Institute for Adult Education (DIE), can be a great instrument for recognizing all the knowledge and skills possessed by young people from our region, which Europe needs very much.
"There are a lot of students who are very talented without realizing it. By completing the sections of the Competence Passport, which include the smallest details about our skills and which certainly reveal potential in various fields, perhaps they can find their place in the business world", adds Nikolina.
The people of Tambov say that there is a shortage of bookkeepers in their area and that this profession will be in high demand in the future.
"Our accounting system, unlike the system used in Bosnia and Herzegovina, is much more complex and in places where, for example, there is one accountant working in Bosnia and Herzegovina, two or three work here", said prof. Dr. Maksim Aleksandrovich Pahomov, head of the Department of Business Informatics and Mathematics of Tambov State University and general director of the Corporation for the Development of Tambov Region. The professor emphasized that students must engage in scientific-research work during their education, and not after completing their studies, in order to obtain the best possible grades for acquired competences and knowledge by special tests when looking for a job.
Public Relations Department