"APEIRON" UNIVERSITY GOES INTO NEW PROJECTS WITH A PARTNER FROM MONTENEGRO
SIGNED AGREEMENT WITH THE FACULTY FROM BUDVA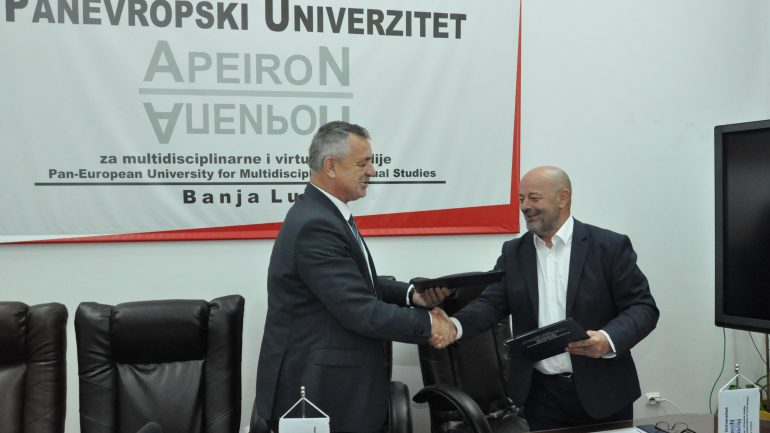 "APEIRON" UNIVERSITY GOES INTO NEW PROJECTS WITH A PARTNER FROM MONTENEGRO
An agreement was signed with the Faculty of Traffic, Communications and Logistics from Budva
A cooperation agreement was signed between the Pan-European University "Apeiron" and the Faculty of Traffic, Communications and Logistics from Budva on Friday, May 12. During the visit of the Montenegrin faculty delegation and dean Srđan Popović, the host was also the dean of the Faculty of Transportation, prof. Dr. Danislav Drašković.
It was agreed that cooperation will develop in scientific areas and other forms of activity. Mutual visits, study trips and consultations of teachers, scientists and artists are planned, all with the aim of exchanging experiences in the scientific-teaching process.
The agreement provides for joint work at scientific gatherings, symposiums and conferences, promotion of universal academic values, mobility of teachers, young researchers and students within undergraduate, postgraduate and doctoral studies, and mutual exchange of publications.
The implementation of the reform of higher education in order to fulfill the assumptions for active and full participation in the single European educational space is one of the points covered by the agreement.
We remind you that the Pan-European University "Apeiron" has dozens of higher education institutions with which it has signed cooperation agreements and with which it has implemented numerous projects so far, many of which are planned for implementation in the upcoming period.
May 15, 2023
Public Relations Department