The 24th International Book Fair has ended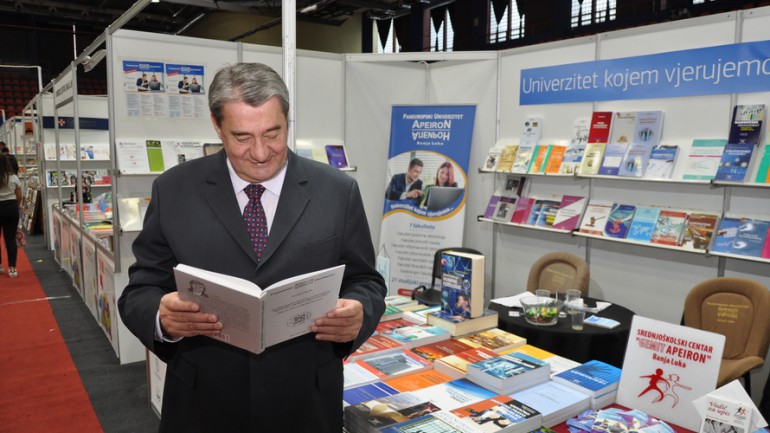 At the "Apeiron" stand, the most requested books in the field of law and healthcare.
The Pan-European University "Apeiron" among numerous exhibitors participated in the 24th international book fair "Banjaluka 2019", which was organized by "Glas Srpska" and was held from 10-16. September in the "Borik" Sports Hall.
"On our stand this year, the most people bought books in the field of law and healthcare, and at a fair discount of 20%. Those slightly younger visitors were mainly interested in the study programs offered by the Pan-European University", said Žarko Bajić, representative of "Apeiron's" stand at this year's fair.
This is the sixteenth year in a row that the "Apeiron" Publishing Center has participated in the book fair with novelties. Compared to last year, the stand of the Pan-European University is richer by about a dozen textbooks, 6 scientific-professional journals and several anthologies. By the way, the University has so far published about 311 scientific works, scientific publications or. university textbooks, namely: about 180 university textbooks, 26 scientific and professional monographs, 34 anthologies and 71 magazines.
Many reputable publishing houses from the country and the region also presented themselves at the fair, among them: "Kreativni centar", "Parthenon", "Dereta", Institute for Textbooks Belgrade, "Laguna" and "Vulkan" from Belgrade, "Kiros" Sremski Karlovci, "Begen" Zagreb, Institute for Textbooks and Teaching Aids Istočno Sarajevo, "Obodsko slovo" Podgorica, "Pčelica" from Čačak, University Library of the Republic of Srpska Banja Luka.
September 17, 2019 - Public Relations Department