The multimedia computer academy "MATRIX", as part of the system of professional academies of the University »APEIRON«, organized at the Faculty of Information Technologies, should enable the participants to acquire specialized knowledge in the field of design, video production, sound processing, special effects and computer animation.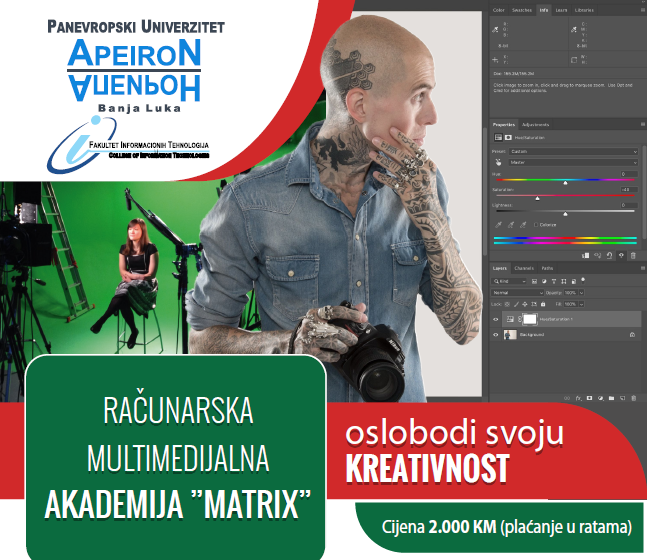 Who is the Matrix Computer Multimedia Academy intended for?
The project is intended for all intellectually curious young people, who are primarily interested in the latest computer multimedia technologies, and who are ready to work continuously during the execution of the project. Basic computer knowledge is a prerequisite for successful attendance.
Basic target groups:
Young unemployed
All those who want to quickly start an independent Freelance business, either with us or via the Internet
All those who want to upgrade existing knowledge and further commercialize it
To all other young people who have the desire to acquire knowledge in this field, which is otherwise growing rapidly on the domestic and foreign labor market.
Taking into account that today every part of our lives is interwoven with multimedia and that man has become absolutely addicted to multimedia technologies (Internet, mobile phones, digital television, social networks, ...), then it is quite clear that experts in this field have huge opportunities for professional work and employment, both here and abroad
Who can enter the academy?
Access to the academy is not limited by the type and level of previous education. For successful attendance of classes, elementary knowledge of working with a computer is sufficient.
AREAS
COMPUTER GRAPHICS

Basics of design, raster graphics, vectors, logos, billboards, brochures, posters, flyers, business cards, Adobe Illustrator all the way, ...

VIDEO PRODUCTION

Cameras, video editing, production of TV spots, special effects, practical work in the TV studio, Color Grading, Adobe Premiere to the end, ...

SOUND

Sound engineering, production of radio commercials, special sound effects (Foley Effects), ...

DIGITAL PHOTOGRAPHY

Camera operation, lighting, photo processing, Adobe Photoshop to the end, ...

COMPUTER ANIMATION

2D animation, 3D animation, special effects, Adobe After Effects all the way, ...
DYNAMICS OF TEACHING
First month:
Module: VECTOR GRAPHICS
Duration: 20 hours
Appointments: twice a week for 3 hours (weekdays 18-21pm)
Second month:
Module: Raster graphics
Duration: 20 hours
Appointments: twice a week for 3 hours (weekdays 18-21pm)
Third month:
Module: DIGITAL CAMERAS
Duration: 28 hours
Appointments: twice a week for 3 hours (weekdays 18-21pm)
Fourth month:
Module: VIDEO PRODUCTION
Duration: 28 hours
Appointments: twice a week for 3 hours (weekdays 18-21pm)
Fifth month:
Module: VIDEO POSTPRODUCTION AND SPECIAL EFFECTS
Duration: 28 hours
Appointments: twice a week for 3 hours (weekdays 18-21pm)
Sixth month:
Module: SOUND PROCESSING
Duration: 28 hours
Appointments: twice a week for 3 hours (weekdays 18-21pm)
Seventh month:
Module: COMPUTER ANIMATION
Duration: 28 hours
Appointments: twice a week for 3 hours (weekdays 18-21pm)
* In agreement with the participants, correction of the proposed dates is possible *
LEARNING THROUGH PROJECTS
The training is carried out in modern computer multimedia rooms, with the additional use of a television and music studio where practical classes are held, and which are available to the participants for the duration of this professional education program.
Teaching is based on practical tasks and examples with the use of the latest software tools, necessary for the realization of set tasks and in working on multimedia graphic projects. Each participant is provided with an individual multimedia computer of appropriate configuration. Lecturers conduct classes using multimedia, through a large interactive multiboard.
The classrooms are also equipped with high-quality audio systems necessary for teaching. Part of the teaching, which refers to video and audio production, is conducted in the television and music studio of the Pan-European University. The studios are equipped with the necessary equipment such as: Video camera, LED lighting, Green Screen background, portable sound recording systems, deaf rooms, mixers, high quality microphones, other systems for recording and processing video and audio signals.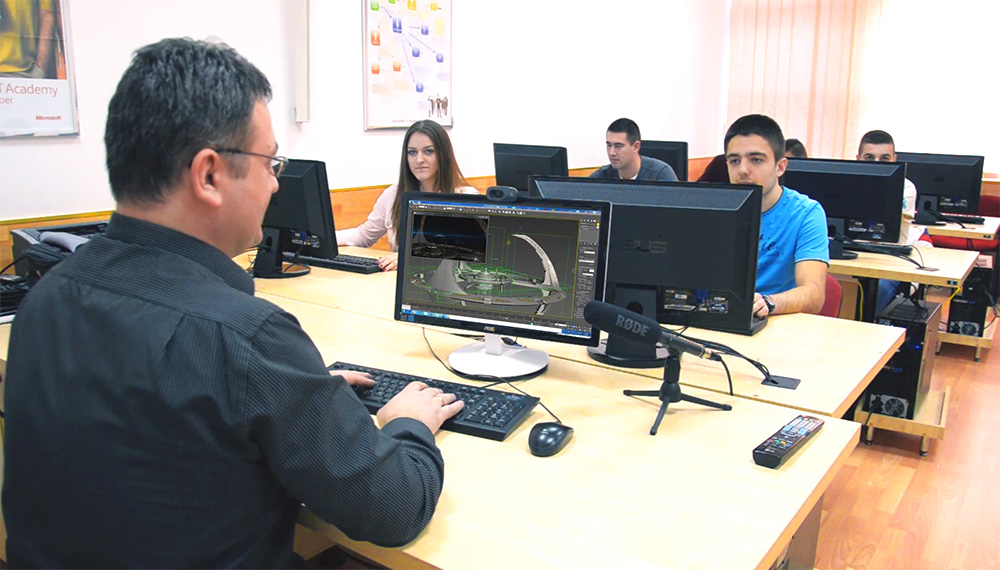 Classes are conducted through direct interaction in groups of a minimum of 10 to a maximum of 20 participants. The standard number of participants in one group is 16 participants.
Classes start within 15 days from the day when the minimum number of participants required for the organization of the education is registered (10 participants).
"APEIRON" University reserves the right to make minor changes in the schedule of planned activities due to adaptation to the current availability of teaching staff. Service users will be informed in a timely manner about any change in the schedule.
UNIVERSITY IT ACADEMY CERTIFICATE
After successfully completing the course, participants receive a Certificate of Successfully Completion of the Program or a Certificate of Successful Completion of the Program for participants who successfully passed the final paper. Passing the final paper is an option that every student has the right, but not the obligation, to use. The certificate is issued by the "APEIRON" University.
EMPLOYMENT
The possibility of working on television in the areas of editing, making videos or working with sound.
The possibility of working in teams or freelance employment.
Work in marketing agencies, organizations and institutions that pay attention to visual forms of presentation.
Independent photographer (handling the camera and advanced photo processing).
Considering the extremely wide field of activity, many models of employment in the field of multimedia and computer graphics are possible, from independent performance on the global market to working in teams, independent companies, production and television companies, radio stations, marketing agencies, film studios, any other forms of employment related to the acquisition, production and post-production of digital video forms (images and sound), computer animation, Brand Design, Color Grading or creation of special effects, up to independent work or work in teams on the development of all forms of WEB forms and any form of multimedia digital visual communication in general.
According to the records of the Employment Service of the Republic of Srpska, there are almost no professionals in the field of graphic design and computer multimedia unemployed.
According to research by the American Bureau of Employment, the IT sector is at the top of the list of the most sought-after and most attractive occupations today, and all indicators show that it will retain that position in the future. According to this research, "traditional" professions in the IT sector, such as system administrators, programmers, WEB administrators and analysts, still maintain a strong position, but today new professions are emerging in other directions in the field of information technology, which are developing intensively and for which the demand is growing exponentially. The US Bureau of Labor Statistics lists these occupations:
3D animation expert
Producer of audio and video content
Expert in digital film production
Environmental simulation development expert
Computer video game developer
Bioinformatics expert
Expert in medical modeling
Network administrator
Software development expert
Internet entrepreneur
It must be emphasized that in the field of multimedia and graphic design there are great opportunities for work and earnings in the form of "outsourcing". The essence of this modern way of working is that jobs and tasks are downloaded via the Internet, and work results are sent in the same way. The possibility of such work in the domain of computer multimedia and graphics is greater than outsourcing work on programming or other applications of information technology. The world market in the field of multimedia and graphic design is huge, with a far greater demand for professional and creative work than the current offer provided by experts - residents in those countries.
The problem is that works in this field require high knowledge acquired through studies at the higher education level, significant skills in the use of various software tools in the field of multimedia and computer graphics, which are acquired through the practical part of the studies, but also through work experience and possessing a critical mass of innovation and creativity. There are huge advantages of this way of working, because young and talented experts can work in their own working environment, without leaving their local communities and without traveling abroad, while generating enough income for a quality life and family financing. This significantly contributes to reducing the "brain drain" and partially solves the issue of unemployment.
Particularly noteworthy are the employment opportunities in the field of providing audiovisual media services for television and radio stations and broadcasters in the RS, respectively. Bosnia and Herzegovina, which need educated and professional staff for quality business.
PRICE
The price of the complete education program
The price of the complete education program (all seven modules) lasting 180 contact hours* is 2.000 KM, with payment in seven installments according to the dynamics of teaching.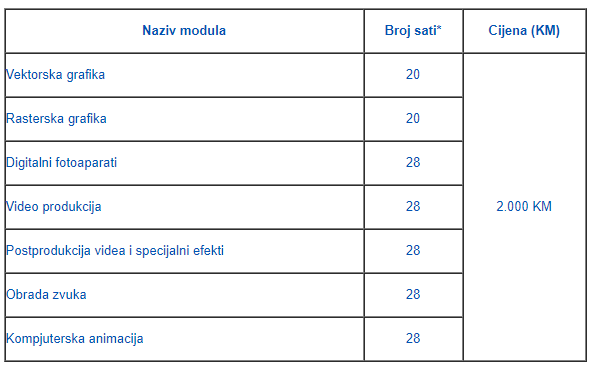 Discount for advance payment of the entire education program: 5% (price: 1.900 KM)
Price of individual modules
Academy participants have the opportunity to choose and listen to modules individually. In that case, the following price list applies (payment in two installments):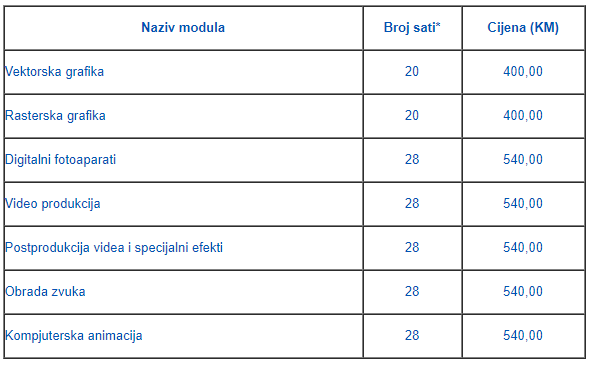 * Academic class lasts 45 minutes *
REGISTRATION IS IN PROGRESS!
Pre-registration of enrollment is done in direct communication with interested candidates in the premises of the academy or by filling out the form: Application form and sending it to email: it.akademija@apeiron-edu.eu. "APEIRON" University concludes an Agreement on attendance at the "MATRIX" Multimedia Computer Academy with all enrolled students.
CONTACT
E-mail: it.akademija@apeiron-edu.eu
Phones: 051 247 920; 051 247 918
Download the freshman guide for the academic year 2021/22
Choose your profession for the future.